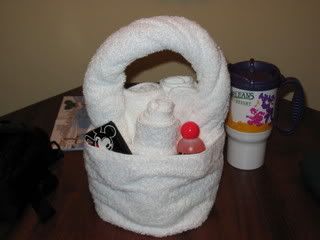 Maybe there are other resorts around the world that will prop your stuffed animals up in bed with the TV remote so they won't get bored, but how many take the time to make towel sculptures?
We've had mousekeeping arrange our stuffed animals, turn towels into stuffed animals, and never once touch our loose change or valuables (I think once our change was straightened up, but nothing missing), and I never bothered to take a picture. I don't know why. But on our last trip one lovely mousekeeper presented us with this, and it tickled me so much that I had to take a picture. In fact, I took 5 trying to get the lighting right.
Do they take classes for this stuff, or what?