As hard as I try to talk hubby into starting off our trip at the Animal Kingdom, he always persuades me to start of at the Magic Kingdom. Since this last trip was with his mother and brother I certainly couldn't argue!
However, my BIL is something of a gourmand. He does appreciate good fast food, but prefers good table service restaurants. Or at least restaurants with table service type food. The Magic Kingdom really doesn't offer much in terms of normal restaurant food, and Cinderella's Table is too hard to get into while hubby won't do buffets (leaving out the Crystal Palace). We were disappointed with Tony's Town Square, and have not tried the Plaza. So we suggested reservations for Liberty Tree Tavern as we'd been there before and loved the food quality and portions as well as ambience. What better way to start off a visitor's first Walt Disney World vacation?
My BIL ordered the New England Pot Roast (pictured below), which I had tried on our trip previously. I'd thought it was a little salty, but BIL said it was the best pot roast he'd ever had. It certainly looked delicious.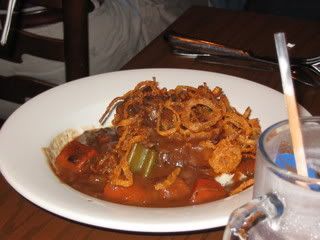 I believe my husband had the pot roast as well, and my MIL's Fresh From The Harbor (salmon) looked amazing- though I wasn't able to get a picture before she tucked in. I ordered the Pilgrim's Feast (turkey- shown below) since I'd tasted hubby's on the previous trip and loved it.
It's just a shame I couldn't get a good photo of it- it was lovely.
While everyone else was ordering Patriot's Punches with their meal, I'd seen their portions before and was determined to have dessert. I agonized over which dessert to choose since they looked so good and I knew it would be a year or more before I had the opportunity to try another. Finally I picked the Liberty Shortcake (below) since the fresh berries sounded so appealing. Notice the size of it? I didn't even get half way through before I went from comfortably full to "OMG I'll never walk again" full.

And if you think I remember the names of all these dishes off the top of my head after 7 months, then you've got a much better memory than I do. I looked them up on Allearsnet's menu page.