Naturally there's the laughter and screams of children (and adults) on the rides and in the attractions. There's the background music, street shows, and the constant pounding of feet. And then there's Walt Disney World's hidden cast.
No, I'm not talking about the plain clothes security or the CMs who keep the pathways pristine (sometimes right in front of your face without you even noticing that they're there)- I'm talking about the talking boxes, waterfountains, and trashcans.
For instance, Pipa- the talking recycling can at the Animal Kingdom (I've only ever seen him/her at Rafiki's Planet Watch).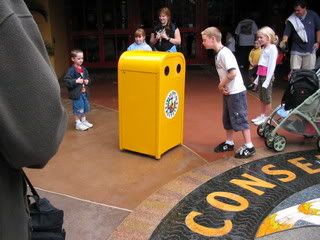 Pipa has quite a personality, and will often notice t-shirt slogans or comments made by passersby. Pipa even called my husband Grumpy because of his hat (too bad I missed that!).
As entertaining as Pipa is, he/she doesn't have quite the same personality as Push- the talking trash can at the Magic Kingdom.

Yanno- I think it really says something about Disney to realize that even the trashcans are camera hogs.